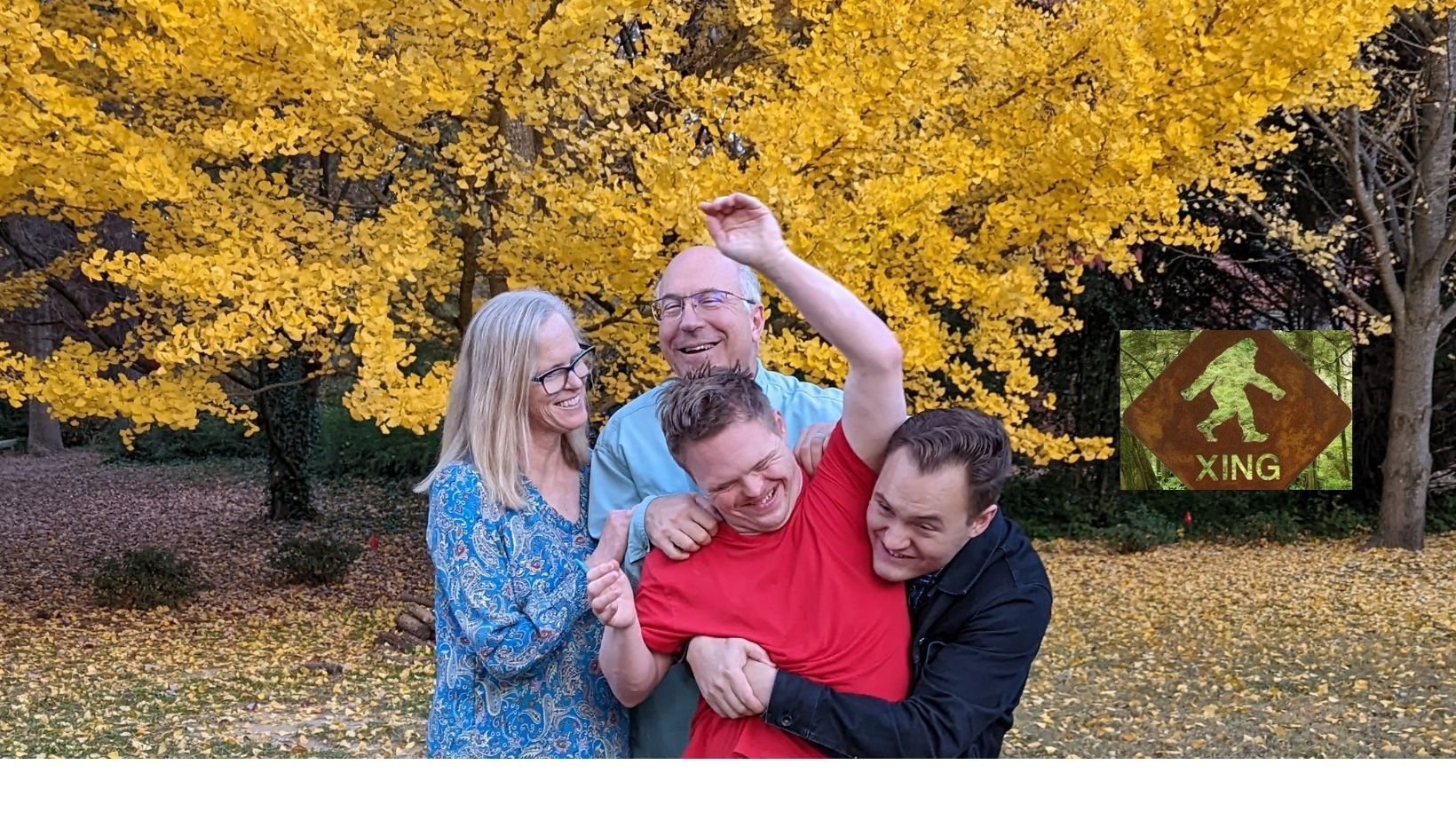 This is a long one. Get some popcorn or a warm drink and settle in for the Big Update.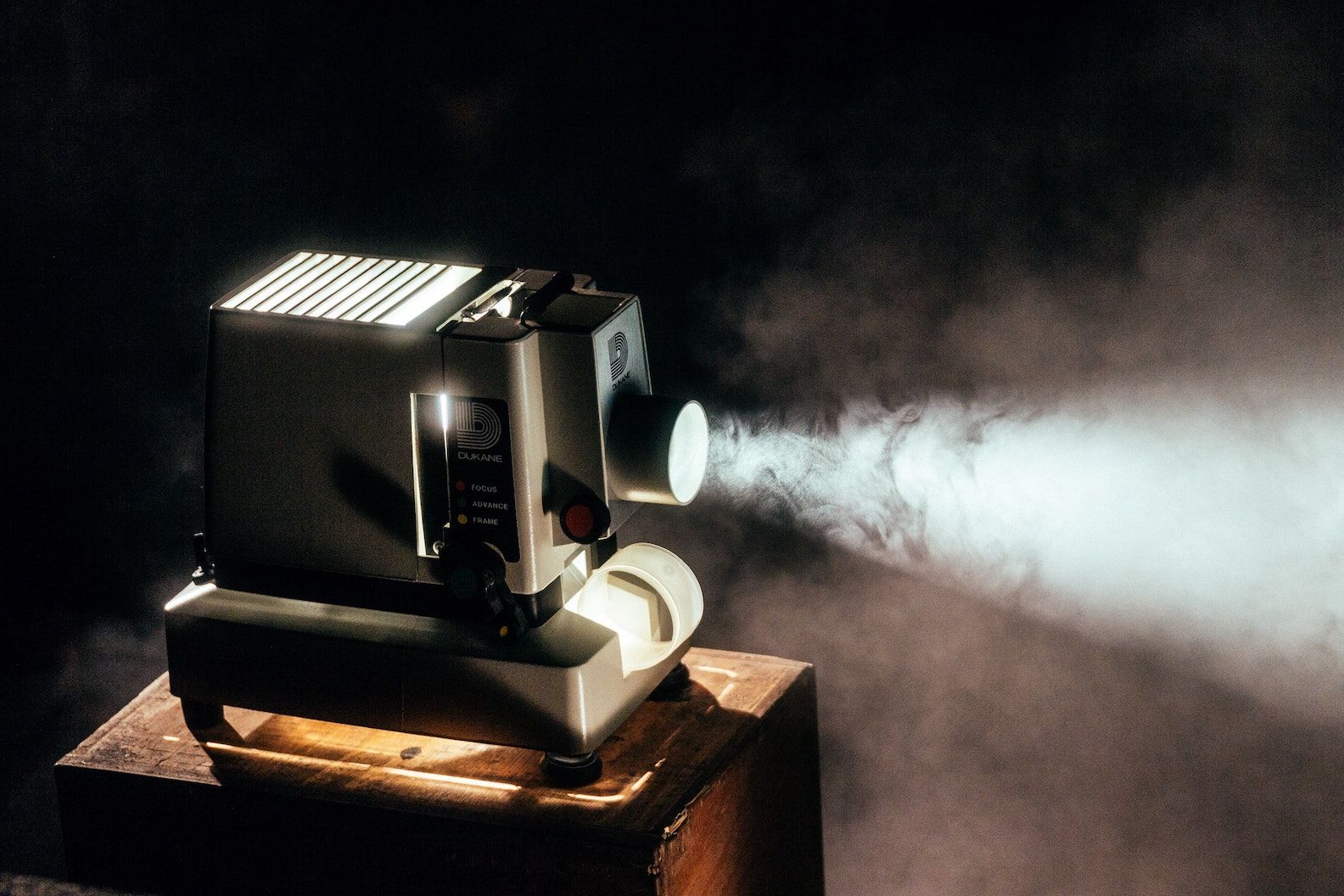 BigFoot
For me, the name conjures up that of a rather enormous historical creature clouded in secrecy.  Often considered mysterious and scary, this living thing is thought to pose a threat to people; an exceedingly large being who is perhaps misunderstood.  He's said to be lurking, stealth-like, deep in the woods.  And depending on who you ask, there have been intermittent sightings with cloudy photographs and videography incapable of authenticating the creature with 100% credence.  I think Preston and BigFoot may have a lot in common.
"I think Preston and BigFoot may have a lot in common."
First, Preston has several characteristics that could be described as rather big and mysterious.  Case in point - his Big Routines.
Big Routines.
Last year I mentioned his affinity for tighty-whities; that as long as we had a stash of about 30 pair a day for him to rotate through, his day was A-OK.  It turns out, a recent survey revealed that Preston is not alone in this preference as 51% of men and women choose the tighty-whites!  lol
Lately, however, it seems he's turned his affinity for changing his Hanes Mens tighty-whities towards Sam's blue washcloths.  Used as a hand towel, Preston changes out a dirty for a clean blue washcloth as part of his attempt-to-wash-his-hands bathroom routine.  The blue washcloths are now needed in bulk of 30 per day; and with those 30 - you guessed it - his day is A-OK.  It's mysterious.
Crafting his routines is a Big deal to Preston.  A really Big Deal.  Huge.  Rather ENORMOUS, even.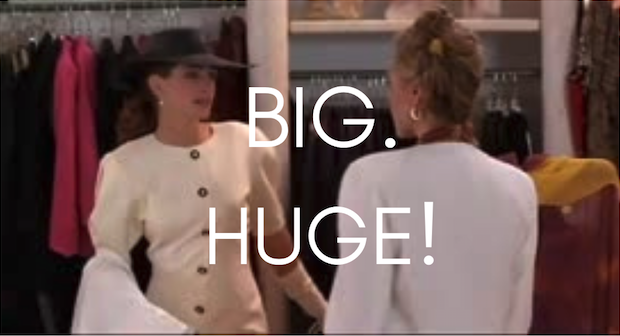 We can never predict what will change or suddenly cycle into his habitual acts. Like BigFoot, Preston's nuanced approach to his routines seems to lurk deep in his mind.  Their meaning is of obvious and real importance to him, but to the rest of us, they seem - well - mysterious and misunderstood.
Routines such as:
All lights in the house are ON during the day; OFF at dusk.
The kitchen door remains open at a 60-degree angle and if you try to close it, it's met with a stomped foot in protest.
The blinds in the dining room are raised first thing in the morning.
His knock-on-our-bedroom-door is announcing, "It's time to get up!" after which he insists with multiple repetitions of "Mamma--[get my] shorts."
His shorts and shirt must be the same thing he wore yesterday; thus, Mamma does laundry every night. Otherwise, He'd happily sport the Charlie Brown PigPen character look on a daily basis.
On every car ride, he quickly chugs a bottled water and places its cap precariously in the right corner of the dashboard.
He touches the car windshield just beyond the bottle's cap with the back of his hand; which, interestingly, his Grandpa Les would also do to test the outside temperature.
After every use, his preferred drinking cup must be kept to the left of the convection oven. It's kept nowhere else. Period.
Breakfast is comprised of a turkey sausage patty, scrambled egg and an Activia yogurt.
He has an established corner in an elevator that, for all elevator inhabitants all over the world, consider this your warning: you will be forced to allow him to inhabit his claimed corner. Your compliance will be returned with an offer to push your desired floor by his side-kick (Mamma) who must reside in the direct opposite corner.
If he visits your home, he will establish a "space" and it could be three (3) years later when we visit again, but he will retreat to that same established space. That space is his now. You won't get it back. Am I right, Baumgartners?
He insists on opening a new item (gallon of milk, jar of peanut butter, roll of toilet paper) before it runs out. Thus we likely will not fall victim to the next toilet paper shortage seeing that we have 30+ partially used rolls stored safely in our laundry room.
And then there's the table routine.  It's rather extravagant.
"The table routine is rather extravagant."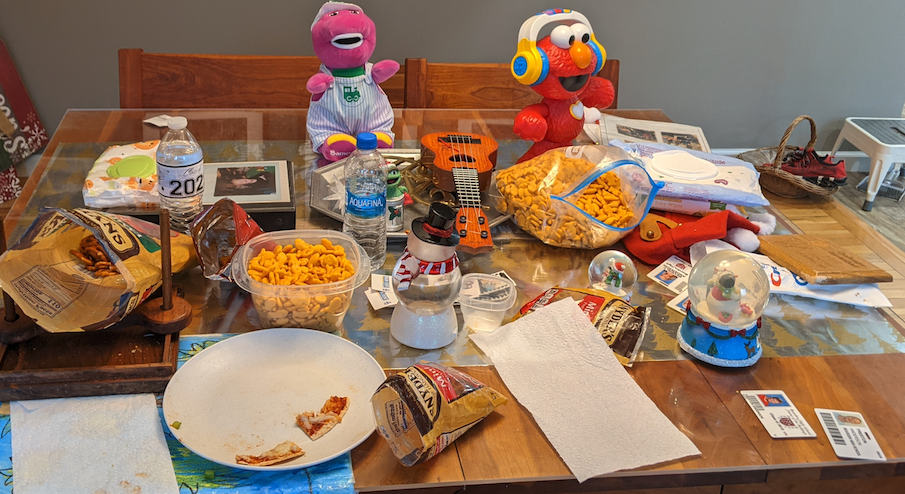 The family table is where Preston dines and gathers a rather eclectic collection of items.  If it were left up to him, the entire collection would remain scattered across the table all day long, everyday.  Well, I can't tolerate the clutter, so he agrees to house his collection in a big basket which inhabits the chair to the right.  The items come out of the basket when Preston eats his meals and snacks.  He takes them out, I put them back after he's done eating.  He takes them out, I put them back. He takes them out, I put them back.  Over and over again.  All day long.  Ad nauseam.  You get the picture.  At night, just before his bedtime routine, he frequently insists on helping gather the items to retreat them to the basket as if to nestle them in their bed for the evening.
But it's not just the repetitious act of items being put on and taken off the table. No, the mystery extends further to involve the precise placement of items.  Each carefully selected item is decidedly placed in its same chosen spot each and every time he brings them out.  With no exceptions.  None.  Nada.
The basket is moved to the floor.
Chip clips and container tops are placed on the chair to the right with the clips perfectly parallel to each other.
The large bag of pretzels is opened and placed straight in front of the corner dubbed as "his" spot.
Grandaddy's wooden napkin holder (which must not have any napkins contained) rests directly in front of the pretzels with a mini paper towel tucked undernearh - always tucked underneath.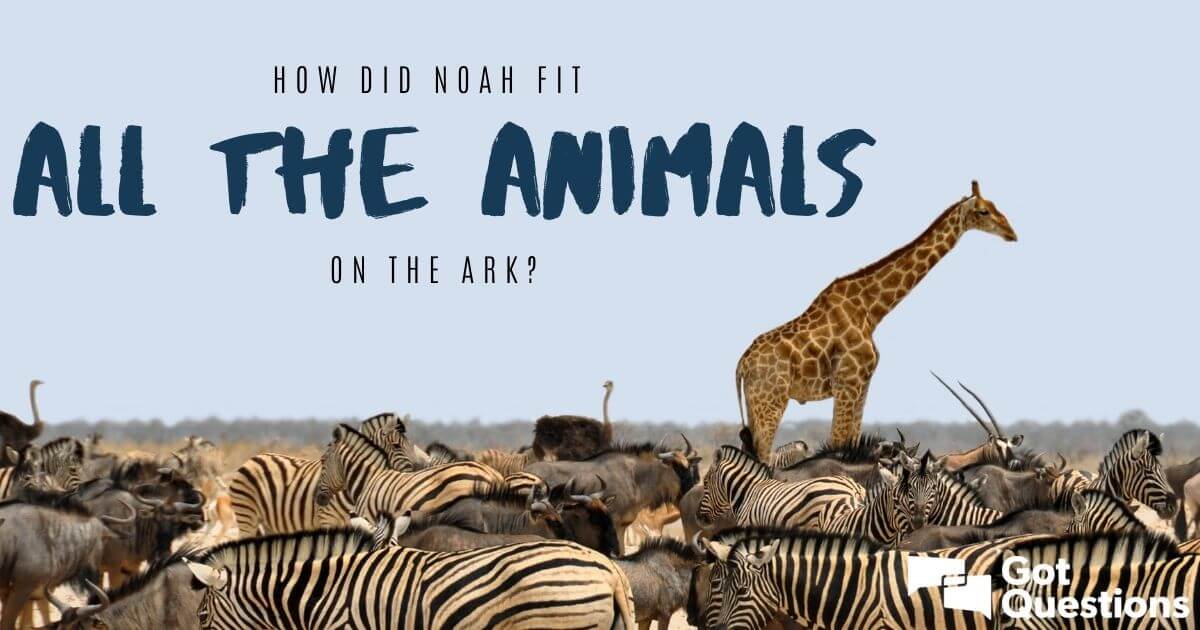 Similar to the Ark, he generally has (2) two of everything:
Two bags of pretzels.
Two containers of goldfish.
Two Elmos (that is, until mamma hid one in the attic).
Two or three snow globes; depending on the season.
His two school IDs placed horizontally below and to the right.
My two outdated school IDs placed horizontally mid-table and to the right.
Two water bottles spaced ever so slightly on a diagonal are arranged mid-table left.
Four photo-booth picture strips from his last three PA's (Personal Assistants) are stacked and lay just behind one snow globe.
A paper bag from the dentist with his wooden Challenger Basketball plaque on top.
Three packages of wipes: one carefully placed on top of the All-About-Preston binder and two stacked and nestled beside the big open Ziploc of goldfish.
Two photo collections of his work buddies from CP Center line up to the right of Elmo.
And thanks to the generous and thoughtful Atlanta Dickersons, Preston has deemed two additional items to have that special significance worthy enough of a spot on the table:
One Barney-the-Train-Conductor doll and
One Classical Ukulele Guitar
"Sometimes things that are disagreeable and difficult to understand can be beautiful and hold precious meaning."
Misunderstood?  Perhaps.  To me, it's an unsightly mess--which may be how one could describe BigFoot.  But sometimes things that are disagreeable and difficult to understand can be beautiful and hold precious meaning.  To Preston, the big table mess may represent a special collection of items that are so dear to him that he has anointed them a specific area that is within his circle of love.
Perhaps it's his way of communicating, "I love you guys--all the things on the table!"  I mean, he even tucks them in at night.  How sweet is that?!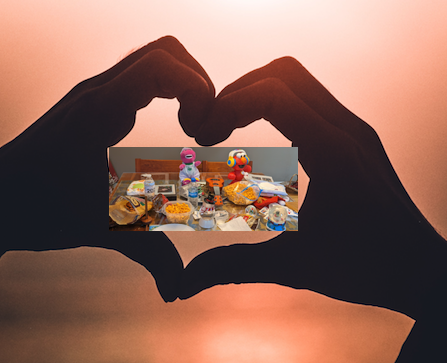 As much as I want to understand what's going on inside that little head of his when he decides, "Now THAT's going on the table," or "I'm adding THIS to my lengthy list of routines," I understand that some things are OK to remain a mystery.  Thus, I can either waste my efforts trying to unravel the whys of his behaviors, or I can choose to simply accept his "Preston-isms." After all, repetition brings a sense of familiarity.  With familiarity comes calm.  Calm can welcome the feeling that "We can get through This" even if the This is continuing to tweak all our routines to yet another new COVID strain.
Yes, the PanDammit still prevails and we all continue to adjust to COVID's calling. Each of us in the Anderson household remain careful when gathering, still mindful of social distancing.  All of us are proud card-carrying members of what I call the CVBC clan (COVID-Vaccinated and Boosted Community.)  We still love you if you're not in the clan, but we will not hug you - not just yet.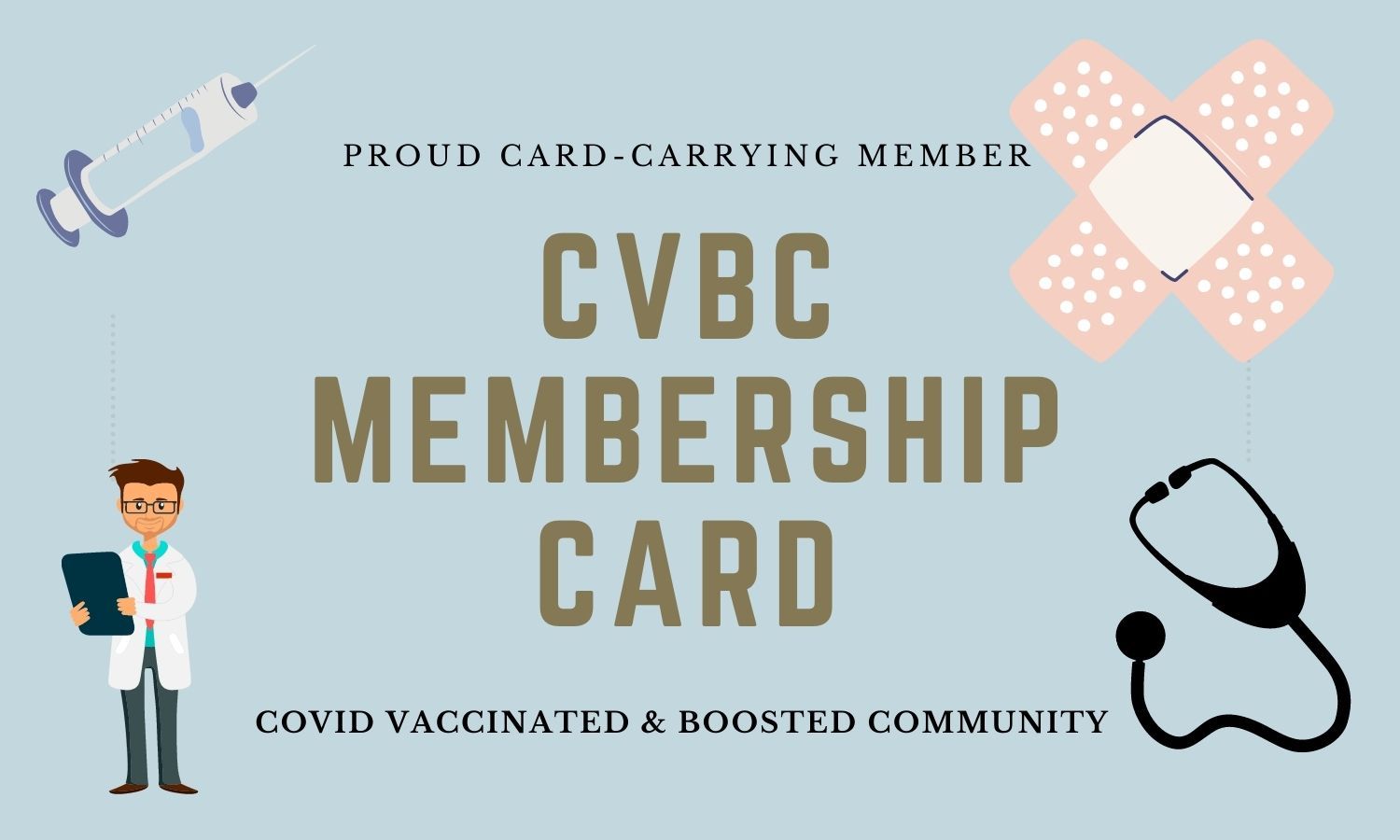 "We still love you if you're not in the clan, but we will not hug you - not just yet."
Preston continues to remain at home and sadly, not out in the community with his CP Center friends.  With the added time at home comes the added time in The Shop where Preston sits barefoot, cross-legged and bounces quite vigorously all 155 pounds up and down, over and over, for about 5-6 hours a day on his right foot.  The fallout?  A small quarter-sized bursar that has hovered over his right ankle since 2012 now spans a 2"x5" area around his ankle and slithers down the front of his foot.
When it grew rapidly over a weekend in late September, we decided it was time to get it checked out.  Three months later, two MRIs,  consults with four different doctors including an Orthopedic Oncologist, confirmed it appears to just be a few sacs of fluid and not a mass (can you see the swift swipe right over my forehead?!)
Big Pandemic Yields BigFoot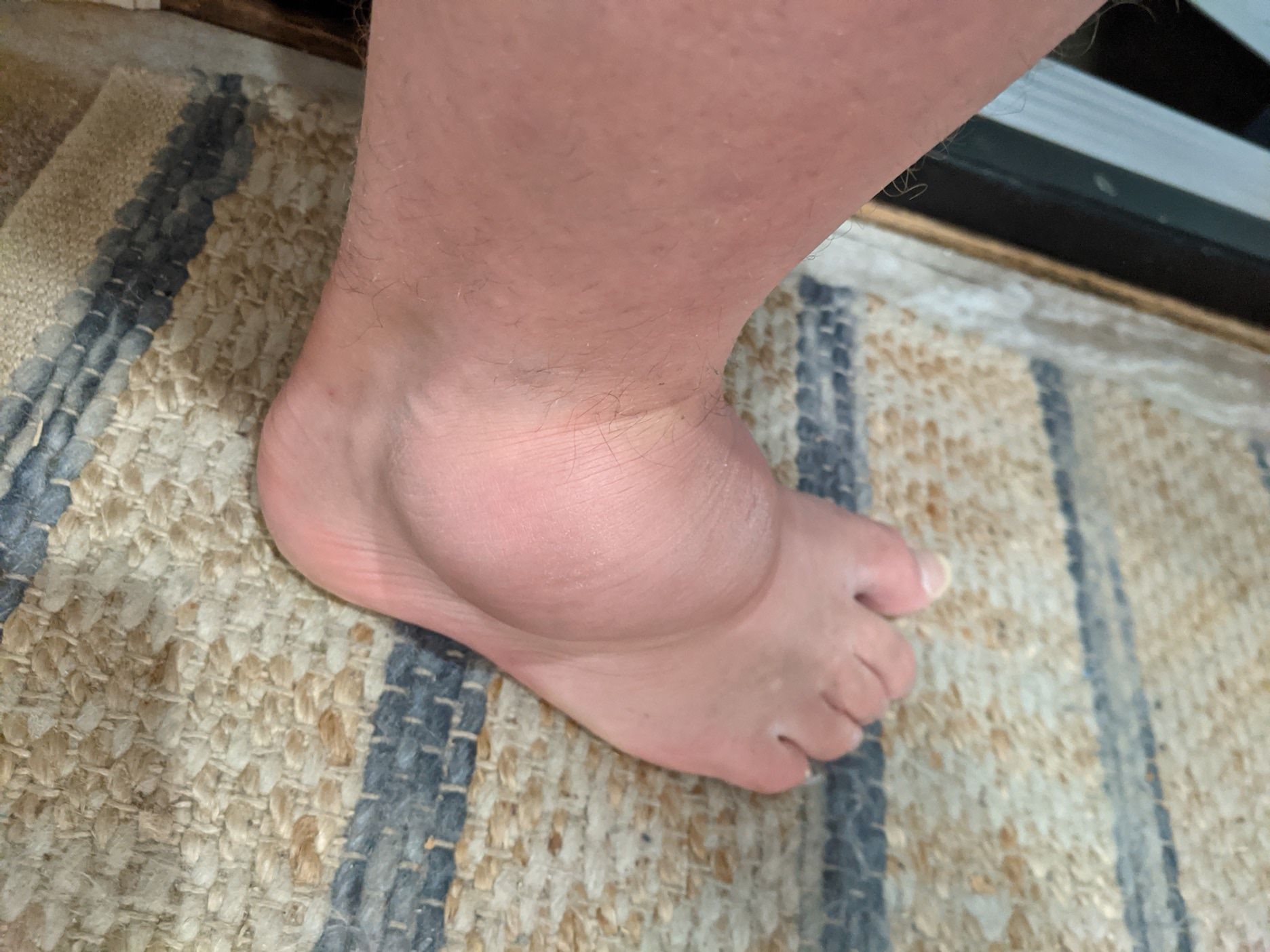 We've opted for surgery which is scheduled for January 12th.  Because Preston will not tolerate a band aid for more than three (3) seconds, we devised a plan to mitigate the complications of post-surgery; we've asked the doctor to cast his not-so-big-post-surgery foot!  The difficult part will be changing his self-injurious behavior which might bring back another bursar sac.  While surgery may not solve the problem for good, we can rest in the hope that the unsightly BigFoot will disappear on January 12th, and future sightings may be few and far between.
Protecting the Legend.
Similar to the myriad of COVID and COVID-vaccine myths, no matter your belief on the legend of BigFoot, he really does exist.  As it turns out, the Western Air Defense Sector, Washington Air National Guard's mascot is Bigfoot.  And while we scurry to protect our daily routines, the Guard monitors "nearly 73 percent of the United States and Canada.  Just like Bigfoot of legend, the sector is rarely seen and rarely heard, but rest assured it continues to observe and - if necessary - serve as a messenger of warning."  
"Perhaps we all have a little legend inside; a belief that if we do This, then That will happen and That will make our world safer."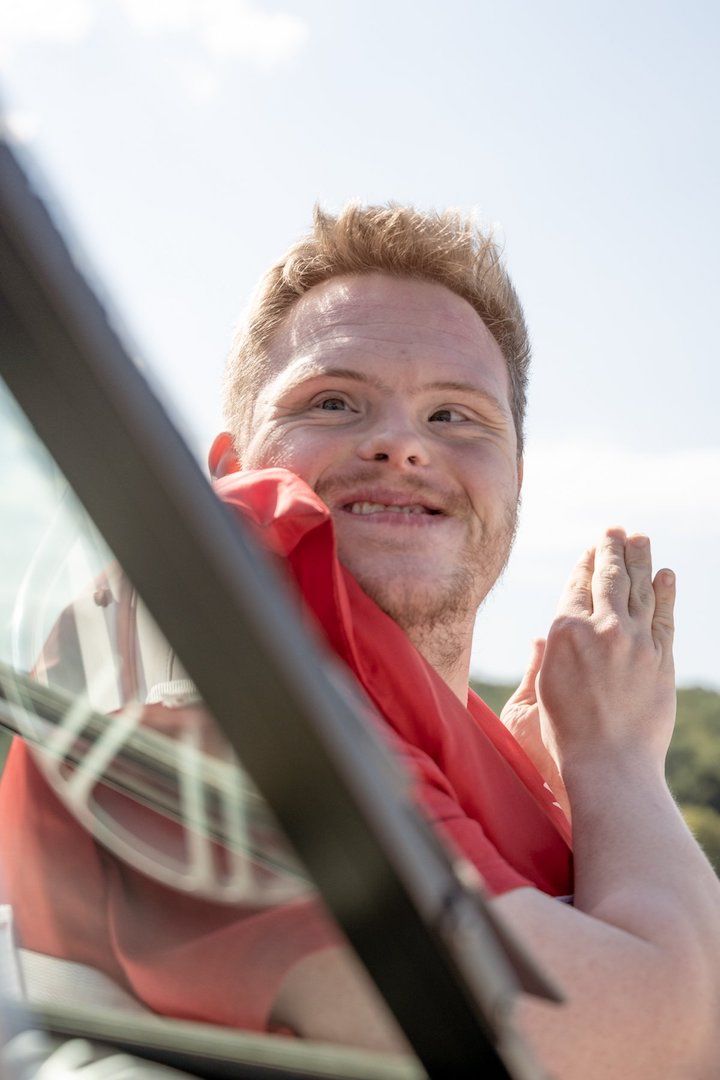 This begs the question - what's the message behind all Preston's BigRoutines?   Perhaps we all have a little legend inside; a belief that if we do This, then That will happen and That will make our world safer.  Who am I to question the compulsive need for BigRoutines?  Dare I reveal a few of our own?
Every Anderson road trip has a requisite start with a Chick-fil-A stop
Kurt must frequent the Starbucks at Exit 5 off I75 on the way to Gun tersville
Kurt turns the station to Fox and I turn it back to NBC
Nathan's morning starts with a mindful meditation
I like to begin my morning alone, before everyone else is awake, with a hot cup of coffee to sip on outside while I feel Morning's dew on my face
At days end, I toss the work attire for that quarantine-adopted style of sloth which includes T-shirt, shorts and a lingerie item that barely poses as a bra and will most assuredly never land in a "best lingerie look" category.
Little BigBrother.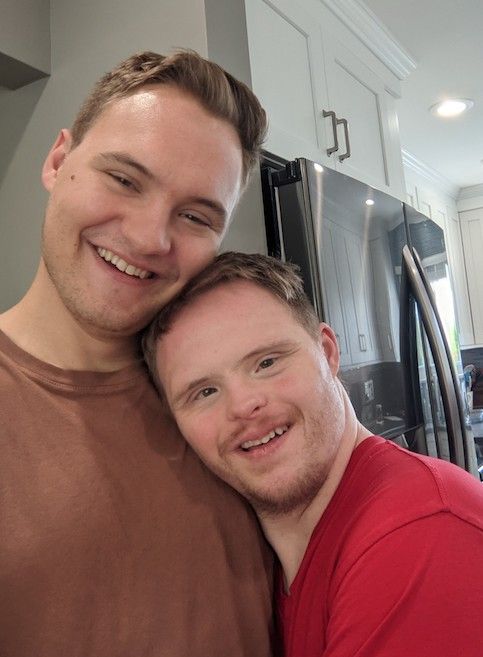 I am still amazed at the authentic love and care Nathan (26) has for Preston (28). Witnessing their non-verbal exchanges brightens a room with warmth and hope for the future.  Nathan continues at Vessul, has found new friendships at a OneLife Micro church, and recently launched his photography store and site at Kunack and Etsy.  An avid reader, he keeps 100+ books in his Audible queue and cycles through recreational hockey, the Peleton, and Lego creations to help keep his life balanced. Oh, and that precious girl of his - Ashwin - keeps us all wagging our Happy!
Big Daddy & Big Mamma
Kurt continues at KUB and is enjoying the flexibility of working from home three days a week.  He plans to keep up his cycling goal of 4,000 miles+his age for 2022. I have no doubt he will hit or surpass the 4,061-mile mark.  Kurt also finds solace in working outside to improve our landscaping, spending quality time with Ashwin, and building rip-roaring fires reminiscent of his father-son adventures in the 60's and 70's.
And Big Mamma?  Well, she continues to enjoy working as a School Counselor at Bearden High by academic year and as a Counselor Educator at Carson-Newman University in the summer.  I've not yet kicked the numbing habit as I continue to stream silly shows as a wind-down activity (at least that's what I tell myself.) One show that has become a recent family favorite is Yellowstone.  You wouldn't typically find the cowboy genre in my queue but since MY NIECE IS IN YELLOWSTONE, it's become a family favorite.  Even Ashwin enjoys the binge!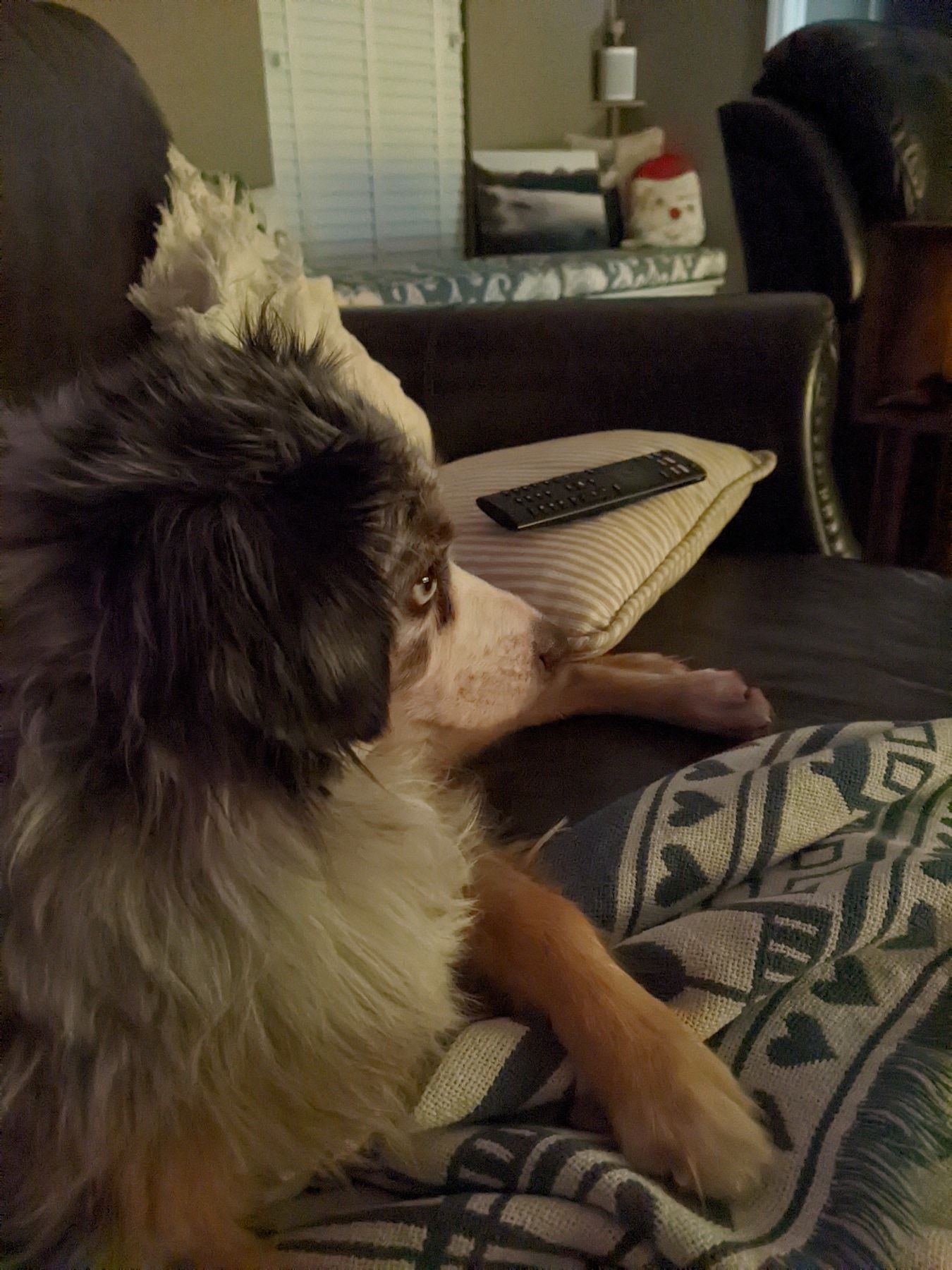 Well, consider this a wrap for our Big 2021.  Wishing Big Cheers for You in 2022!