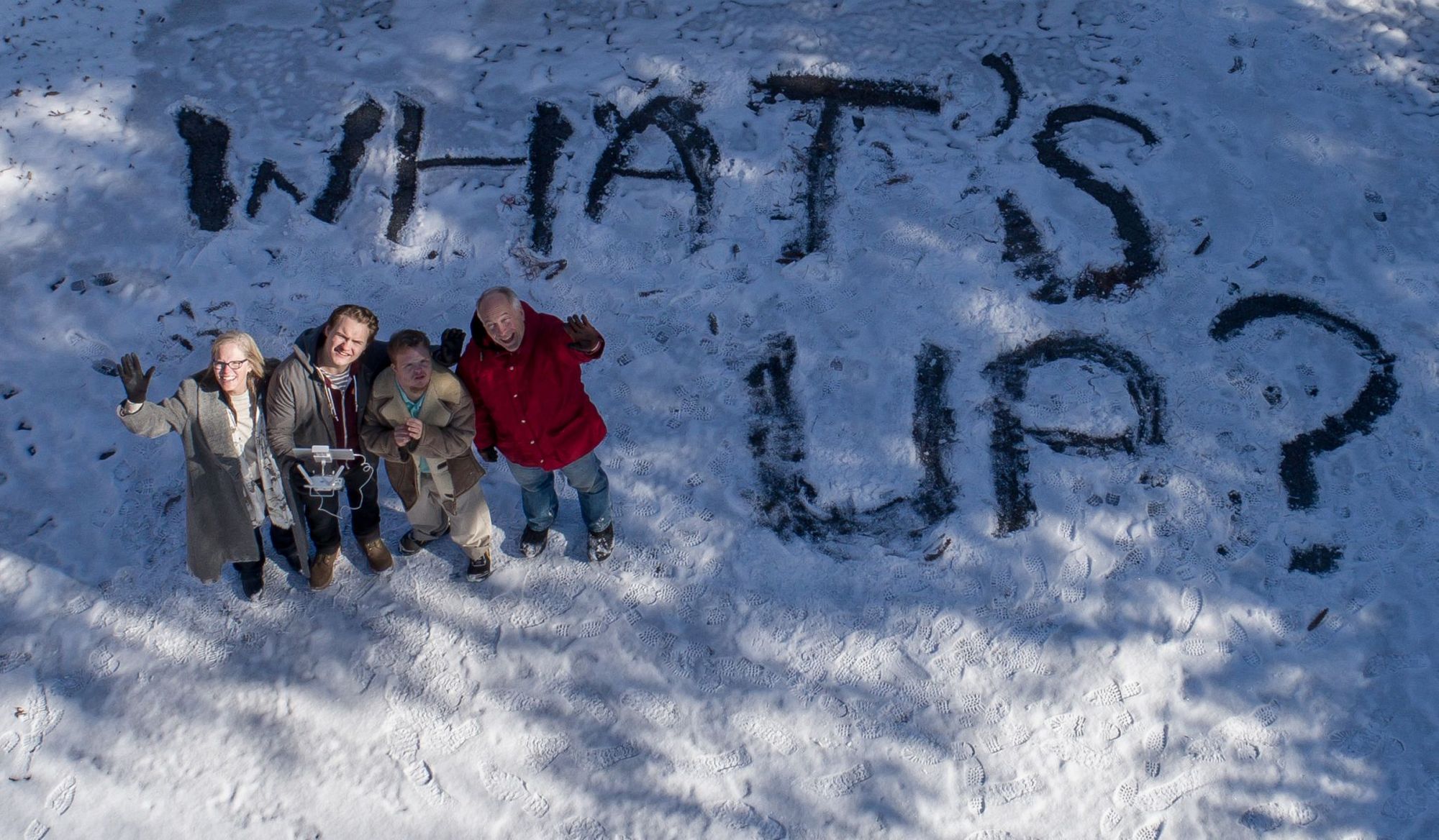 Said the tree fort to the little squirrel
Do you see what I see?
Way up in the sky, little squirrel
Do you see what I see?

A drone, a drone soaring way above
With the An-der-sons in it's lens
With the An-der-sons in it's lens
Said sweet Preston to all those around
Said sweet Preston to all those around
Do you hear what I hear?
Ringing through my ears a slight sound
Do you hear what I hear?
A loss, a loss
The doctor says "a lot"
So I tried hearing aids but said, "NO-NOT!"
I tried hearing aids but said, "NO-NOT!"
Yep. Preston has quite the hearing deficit. He hears at 75 decibels and above. Imagine standing just next to a gun shot….just shy of that sound….that's the level of noise where Preston hears. You and I engaged in a normal conversation? That comes in around 30 decibels; 10 is a whisper.
Well this explains a lot: Why Preston, on his knees, leans his left ear into the TV speaker. Why he insists on "louder" as he points to the Bluetooth image on the car's dashboard. Why (for years) he's had non-reactive behavior to verbal commands which I thought was either a cognitive shortfall or a just a polished teen behavior of "I'm choosing to ignore you, Mom!"
Why do I do that? Jump to his defects….his imperfections…his deficiencies? It goes back almost 25 years ago when—at his birth—I was worried about how on earth he would be able to compensate for all the downside that an extra chromosome would surely breathe into his life. Turns out-- at least in stressful situations such as Preston's health-- I'm a defensive pessimist (DP for short). Yep-- according to this rating scale-- I'm 84% DP.
That's so twisted.
Speaking of twisted. Remember Preston's Underwear Bar? (from our '14 update). He's now expanded his franchise to include a Juice Bar. At the top of his mocktail menu is a drink sure to make Liquor.com's next list of the "hottest mocktails right now". It's called "*The Twisted Shorts*." Similar to ESPN's 2014 reporting of the (then trending) rolling waistband fashion, Preston takes his shorts and twists them 2 – 4 inches to the left; making what men tell me must be uncomfortable pressure on his private parts. We twist them back front and center; he twists them back to the left. Back and forth like a tennis match with the score always ending with Parents-Love; Preston-40. Perhaps it's his behavioral version of compression clothing? Like I said, it's twisted.
Back to hearing loss. We were hoping he would be a candidate for surgery to correct his hearing down to 40 decibels, but he was not. This meant our next route was to try hearing aids. After several consults and about a two month trial with the aids, I admitted defeat. It was not easy for me to concede. I cried almost inconsolably when I returned them. For 24 years we've been able to report on the complications of raising Preston, but those complications are typically followed with solutions. Simple solutions often embedded in the riches of pure love, in the quiet of the moment, and the solitude of sweet, sweet joy and wonder.
Why this trail felt more like a personal failure to me is unclear.
Perhaps I'm a bit more worried about his continued launch into adulthood. And so, as I often do, I reached down for the simple truths I've learned from family. Such as Kurt's sister's saying, "Oh Wells." And brother Corry's proclamation, "That's just the way how it is." And one of my parents' favorite, "Hattie says just pray to the Lord and go ahead on**."
At least we know we tried. Thus, we've decided to go retro (back about 20 years) and look for speech therapists who can re-teach Preston (and us) alternate ways to communicate. Perhaps revisiting Total Communication and other non-verbal tactics will heighten Preston's ability to interact.
Oddly enough, despite his decreased hearing, Preston has offered more voluntary vocalizations. He whispers close to my ear, "Mommie…..Good time with Mawies!"..... "Mommie….Good time bowling!**" and my favorites (with accompanying soft pats on my shoulder) "I love you so much, Mommie**"…..and "**I give you a big, big hug, My Mommie."
In the words of CMA star Thomas Rhett "I could die a happy [wo]man."
Preston continues to report daily to his Transition-To-Work program at Cerebal Palsy Center where he is showing more independence. He is refining his employability skills – especially those that involve sorting – even without prompting (which is a really big deal in Preston's World.) You know it's a good fit when Preston's first words in the morning are, "Mommy…..Go to Work?!" How many adults are as fortunate?
Everything is more enjoyable with Preston. During my weekly donations to Sam Walton's empire, Preston helps me. He adds and takes away from the grocery cart. he puts items on the conveyor belt. He supplies unsuspecting strangers with random hugs.  I feel safer when Preston is around. Shopping is much more enjoyable. In a time where most are attracted to online shopping and pick-up for the efficiency it brings, I prefer the long outing with Preston as he makes me smile, he makes people around him smile and he freely spreads warmth. With so much hate in the world, Preston has the ability to cut through differences of opinion and bring folks back to warmth; all without a single word, blog, tweet, reaction to a tweet, or a social media campaign.
Too bad he can't join Congress.
Said the night wind to the little Sib
Said the night wind to the little Sib,
Do you see what I see?
Way up in the sky little sib
Do you see what I see?
A star, a star Posting on UnSplashWith 200 Million who see!
With 200 Million who see!
The Sib on the Sideline
You read that right. Nathan's photos have over 200 MILLION views on Unsplash. What's Unsplash? It's a community of photographers who give their good work away; a place where you can find quality stock photos at no cost. But not just any photo can land on the site; there's a screening process.
For example, the owners choose "influencers" and the featured influencer-feeds are emailed out to millions of followers. Nathan is featured most every time he uploads photos. Unsplash's site has over a billion views each week. Nathan's monthly view is up to 25 million. In fact, he comes in #5 in their 2017 list of the most viewed photographers, was a named community member of the year and landed in their list of 100 photographers selected for their ability to consistently shoot impactful photography. Not bad for a hobby.
He says hobby; I say creative therapy. You see, if you read his Medium posts of "Finding Purpose with My Grandfather's Old Photos" or "35 Weeks of Scanning My Grandfather's Vingate Film" and "How Unsplash Made Me a Photographer" you'll learn than (primarily) Nathan's interest in photography was spurred by time spent with his Grandpa Les. However, Nathan's passion to refine and better his photography skills was ignited by paying tribute to Les posthumously via honoring the man and his photography. As a counselor, I see this as a form of therapy; where Nathan uses photography (both his own and those of his grandfather) to improve himself but also to evoke positive emotions from others through his eyes.
As for work, Nathan landed an opportunity at Vessul Creative where he contributes Design and Development. What does this look like? A Designer's handy-craft is the front-end of what you see on a website: the layout, the flow, the design from page to page.  A Developer is more the coding: the hard-core lines and lines and lines of hidden code behind the webpage that makes the website run. Lines on a page that make most people dizzy. Most people either Design OR Develop. Nathan enjoys both.
Nathan was found to be in the top 1% of ability to focus
This is where Nathan's ability to focus shines. When he was young, Nathan was found to be in the top 1% of ability to focus and verbally understand and process data.
Nathan's launch into Vessul Creative was the perfect-storm combination of talent and timing. Nathan had finished a six month Front End Development course. His continuous research into web development and improvements was paying off in terms of added growth. One example of growth is Nathan's self-taught Google rating Shift of Focus score – what Google considers to be the Gold Standard Practice and Rules to building a website. Many developers ignore this focus and most websites fail the test. Nathan's Vessul site gets a score of 100%  and ranks "Excellent" among an industry comparison.  The local utility company and large public school system score around 40% with "Poor" and "Fair" industry comparisons.
Nathan's motto? "I spend my time learning." On the personal development learning, his top 10 recent reads include:
Nathan continues to be the Sibling on the Sideline, the one who exclaims daily, "MOM! Preston is SO AWESOME!!" The little-big-sib who so freely gives his care and love for Preston.
I'll try and capture the depth of Nathan's brotherly pride with just two of his photos in the hobby collection. Two photos that have connected with with millions of people. Literally.
For example, take this image that Nathan took at Challenger Baseball.
It has over 2,120,085 views and over 18K downloads.
Uses from total strangers spanning the globe for a multitude of reasons. Reasons such as:
Then there's this picture Nathan took during a day trip to the Smoky Mountains. [When, by the way, I looked at him and said, "Don't you dare take my picture!" I'm glad he didn't listen.]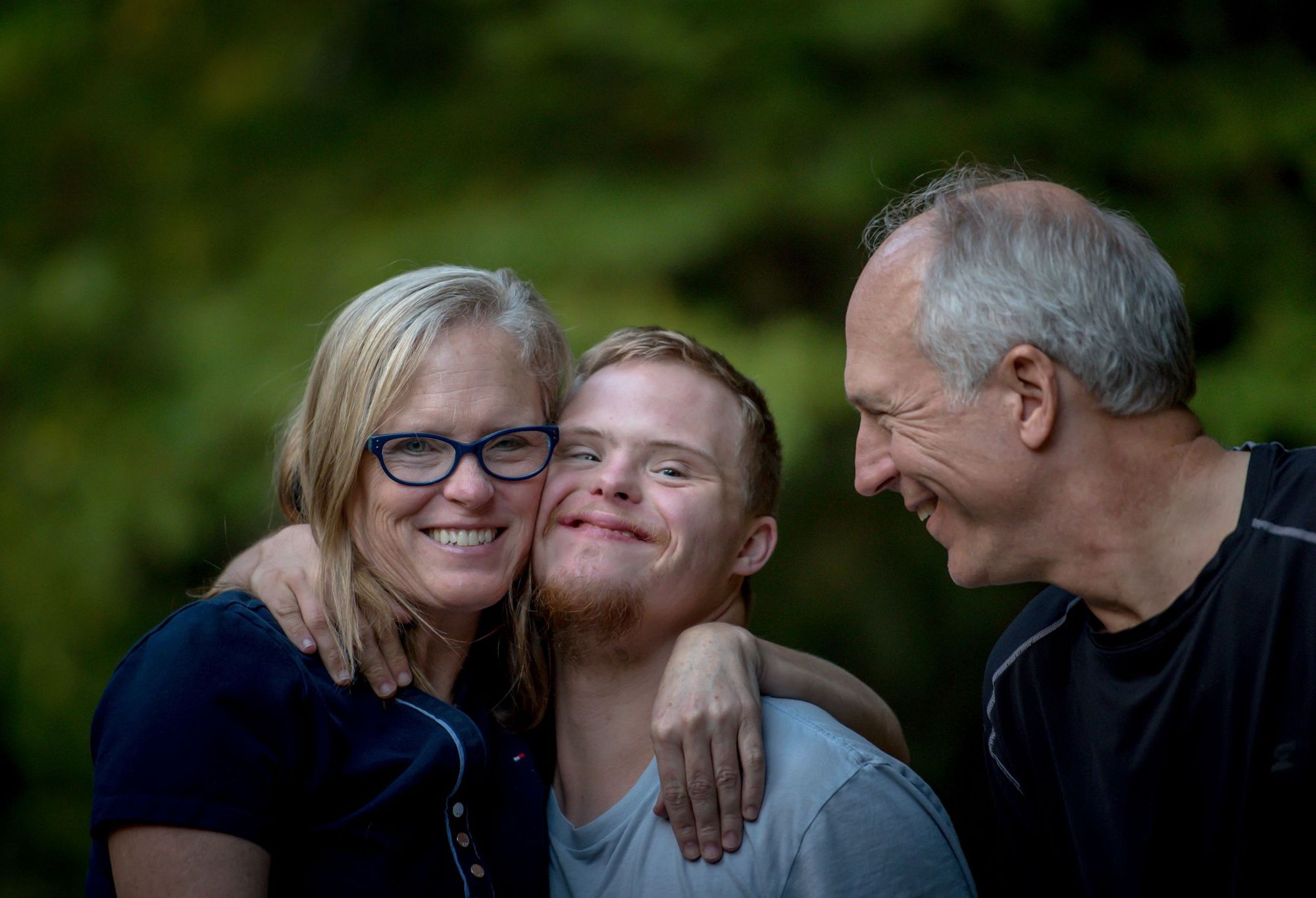 This pic has over 2,240,050 views and over 15K downloads.
My favorite usage (beside our holiday greeting) is Jenny Rapson's blog on ForEveryMom about the eerily real possibility of a world without Down syndrome (more on this later).  While I've never met Jenny Rapson and I don't know her logic behind choosing our family picture as the title capture for this article, I can't help but think it's hidden irony of how sad and depressed we look as a family with an adult with Down syndrome (NOT!).
If there was a "Brotherly Pride" sibling social movement to show the world the starry, starry wonder of living with Down Syndrome, Nathan would surely be its chief activist.
Said the shepherd man to his fam-i-ly
Said the shepherd man to his fam-i-ly
Do you know what I know
How to fix and repair broken things?
A man, a man
Shivers in the cold
Breaking legs, as-phalt and kidney stones
Breaking legs, as-phalt and kidneys stones!
It's been quite the two years for Mr. Kurt. Work-wise, he remains at KUB as a Security Analyst (using that PSP credential), but is now nestled in IT. Kurt spends most of his day looking for and developing systems to protect KUB from all the "bad guys" out there in Cyber space: hackers, ransomwar-ers, those who harvest email and Phish. After 30 years I'm finally understanding why he digs the Sci-Fi genre of flicks and why he opts to go to the "kids" movies…..we all need an escape.
Obstacles? What obstacles? Kurt didn't let a twice broken leg interfere with his goal of riding 3,000 miles in 2016. Nope – he rode over 3,300 despite a two month hiatus. How'd he break his leg? Playing hockey. It was 1st period and Kurt's ankle met the force of an 80 mph puck! Obstacle? What obstacle? Two minutes later he was back on the ice. A week later, he noticed his skate didn't fit. He thought, "Hmmm, maybe I should go see a doctor?"  [This must be where both Preston and Nathan get their high tolerance for pain.] Doc said, "You what?! It's broken. It's badly broken!" When my brother learned the news, his response was, "Has he looked at his driver's license?!"
A health-care provider would break his leg a second time in two months!
What are the odds that the same leg and fibula bone which broke when he was 10 in a skiing accident would break 45 years later? Odder still, how about the fact that a health-care provider (his PT) would broke his leg the 2nd time in two months (via an 'adjustment')?!
The Orthopedist banned Kurt from returning to that PT. What did Kurt do? He set his inner teenager free and continued PT with the same therapist.
Dad-blasted! No, I'm not mad at Kurt. Quite the opposite. Especially when he started telling me (in a pre-anesthetic fog) where all the personal effects and legal documents were located. Not to let his twice-broken fibula take center stage, Kurt's kidney went into sand-stone production mode and he had to twice have lithotripsy (kidney stone blasting). Kurt thought that was so much fun that he wanted to do some *engineerial** blasting of his own – in our backyard.
Thus, the asphalt hockey court and the 3-story tree-fort are no more (they're not Up anymore.)
it's a word….look it up in the* urban dictionary!
Oh that Peter-Pan backyard!
Oh that Peter-Pan backyard. So many great memories. Since Preston was 2, Kurt has added some magical play structure element to our Neverland backyard:
sensory ball pit
tire swing
zip line
radical leaf-pile runs
2 story tree-fort
rock wall
3 story tree-fort
asphalt hockey court
water-balloon launcher (to hail center hockey court and aim toward the 3rd level of the fort)
But, alas; like Peter, Kurt (and the boys) must become Pan. His latest backyard project is an outdoor man-cave complete with a tin-roof covered 16' x 16' deck, hot tub, separate outdoor fire place area, and a garden for valuable Kurt & Preston bonding. He's already got his next project in mind: a waterfall. You must visit!
Said the queen to the people everywhere
Said the queen to the people everywhere
Listen to what I say
Three decades of marriage; be aware
Listen to what I say
The room, the room
In its re-design
Must be built a-round the blue chair
Must be built a-round the blue chair
The blue chair reference is an inside joke (actually – in part - a sweet tribute to Kurt's Dad.) Inquiring minds may learn more upon viewing. Suffice it to say, however, that I finally decided that 1989 was long enough to keep our antiquated home décor; this was one area that was not going to have a retro revitalization!
One thing is certain – I did not miss my calling in the interior design business – it is so NOT my strength! Every decision felt painstakingly difficult. How could picking out fabric or the placement of furniture be so complicated? Hats off to those who seem to have innate design talent (Jeannie, Susan, Jan, Stephanie)….there's a small business opportunity waiting for ya'll! Not for me. Definitely not for me.
Definitely not for me.
I'll stick to helping families figure out the college admissions maze via teaching a summer graduate course at Carson Newman University. And to supporting the slow-down of teens from Conflict to Suicide via serving back at Bearden High as a School Counselor. The two-year stint as a district facilitator was a learning experience. No other opportunity could have provided me the lens to see all 18 middle and 18 high schools in the district and meet such outstanding servant school counselors. Furthermore, the opportunity opened my eyes to the mechanics of running a large school district. I am thankful. So thankful for the brief run and more so for the freedom to return to home base.
Back to Jenny Raspon's blog about the abolition of Down syndrome. The title is shocking; and the read? Even more appalling. Not Jenny's view (I thank you, Jenny, for your heart-warming support of families with DS). Rather the revelation that governments in countries such as Iceland, Great Britain and Denmark are taking the stance to remove a population in the name of health-care savings. Stop. Read that again.
Quote
Health care savings trump the value of Preston Mark Anderson?!!
This makes me beyond sad. This makes me so disappointed in the choices human make.
Cost? You want to talk cost? How much is it costing our economy in the hell of its current opioid crisis? How about 78 Billion Dollars. …in 2013!
Should we just kill the estimated 2 million opioid addicts in America alone so we can stand at the alter of 78 billion dollars in health-care savings?
No. Of course not! Yet, let's argue that stopping the 3,000 – 5,000 world-wide DS births per year could be a justified health-care savings.
Stop it.
STOP IT!
Religious opinions aside, what about the benefits that persons with Down Syndrome bring? My life, since 1993, is full of examples. What are the benefits of Opioid Addiction? Hmmm….Can't think of any. ALL life is valuable; no matter how they came into this world, no matter what happened to them along the way or no matter the choices (intended or not) that landed them bad fate.
No government should get to declare value.
If anything should be abolished, it's genocide.
Let me just end by sharing yet another made-you-smile video that reminds us ALL persons are valuable. ALL persons want to belong. ALL persons want to be heard. Check it out and Go Halls Red Devils! You made me smile! [source: © 2018 WBIR-TV. All Rights Reserved.]
Questions? Comments.... email Bev at bevandersontn@gmail.com